What is the Mito Downtown
Revitalization Project?
The Mito Downtown Revitalization Project aims to create a reusable model of regional revitalization
This project aims to revitalize Mito through collaboration between the private sector and local government.
Projects are implemented simultaneously with people, capital, and knowledge at the forefront.
In order to best serve the community, we take local people's opinions and suggestions into consideration for future projects.
Increase the number of residents

Increase pedestrian traffic

(defined as total weekly foot traffic)

Unused or vacant land

Repurpose unused or vacant lots, shuttered shops, and abandoned buildings downtown into places for people to gather

Create a
media entity

Create a new local media platform
(TV, internet, FM radio)

Develop a
compact city

Turn Mito into a compact city through developing new transportation systems, and become a leading example of successful regional development
Themes of the Mito Downtown
Revitalization Project
Theme 1.

To create an urban metropolis with art, education, tourism, and sports entertainment

Theme 2.

To promote investments from both inside and outside of the prefecture, to create local jobs, and to develop new industries

Theme 3.

To enhance communication abilities through new public transportation systems and media centralization
The success of these three themes will make Mito a
leading example in building a compact Japanese city
Active Projects
Currently, there are projects completed or underway!
Ibaraki Robots basketball team acquisition and renovation of Azumacho Gymnasium

Basketball brings the city together in this state-of-the-art arena.

GLOBIS University Graduate School of Management established a campus in Mito, Ibaraki in April 2017

This is the University's sixth campus, in addition to locations in Tokyo, Osaka, Nagoya, Sendai, and Fukuoka. The first class had 89 students!

M-SPO: a sports center and gymnasium,
cafe and open space

M-SPO is located in the middle of downtown Mito, and creates a space for people of all ages to gather.

M-WORK: a place for individuals, corporations, or students who want to start their own businesses to meet and exchange ideas

Lectures and other events related to entrepreneurship, as well as a business planning contest for high school students are held to encourage new ideas.

Project 5

M-HISTORY: Dr. Michael Thornton published Mito and the Politics of Reform in Early Modern Japan, a book that outlines Mito Domain's role in Japan's historical influence

In the nineteenth century, Mito became the birthplace of a revolutionary ideology that transformed Japan into a modern, imperial nation-state. The book focuses on the stories of Mito's politicians, philosophers, and ordinary people from the beginning of the domain's history to its end. Originally published in Japanese, an English version of this book was published in 2022. Over 500 contributors were interviewed in the writing process.

Project 6

M-TRAD: an initiative to maintain,share, and pass on Mito's traditional performing arts

This project supports geisha performing the Tokiwa dance, a traditional dance troupe, and kagura [Shinto music and dance] performers. The project also aims to preserve the world of the geisha. We hope to expand the activities to include the preservation of Suifu [traditional] swimming techniques, Hokushin Itto-ryu [swordsmanship], and Suifu [paper] lanterns.

M-ART: supporting young artists

Contemporary art from Mito was developed around Art Tower Mito. This project supports a variety of expressive activities, including street art by using vacant buildings and other sites as canvases.

M-GARDEN: also known as The Tokiwa Pavilion (The Kobun-tei pavilion in 2019 and beyond) was completed in July 2020

M-GARDEN is an event space, conference hall, and wedding venue where visitors can enjoy the Tokiwa Shrine and Kairakuen Garden, which overlooks Lake Senba.

LuckyFM: Acquiring Ibaraki Broadcast System

LuckyFM provides information and news on sports, music, and lifestyle, and educational content to people in and outside of Ibaraki Prefecture.

Project 10

M-LAKE: A place of rest and relaxation by Lake Senba

This will be a place where people can gather to appreciate the beauty of Lake Senba. The project is scheduled to be completed in 2023.

More projects coming soon!
Greetings from the chairman
"My hometown of Mito is the birthplace of the Mito Domain,
which led the Meiji Restoration."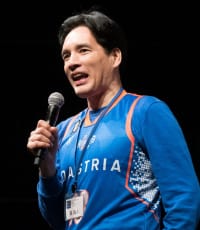 Mito Downtown
Revitalization Project
Chairman
Yoshito Hori
The region has produced many revolutionary thinkers who were thought leaders of a new era in Japan long ago. However, looking around Mito today, supermarkets that once stood are gone and department stores have all left the area. The once bustling downtown is now filled with abandoned buildings, vacant lots, and shuttered shops. Chain stores replaced small retailers.With the surge of vehicle ownership, the once bustling main street, Komon-san-dori, no longer has the lively ambiance it had in my childhood.
I attended elementary to high school in Mito. I can vividly recall those days when the city was prosperous. That is why I am especially saddened by the current situation and, at the same time, why I have an intense feeling that something must be done. When I was invited to Mito for the Mito Ambassadors Meeting, I had an opportunity to talk with Yasushi Takahashi, the Mayor of Mito. I told him that we should invest in revitalizing the city and breathe new life into the area, and that I would lead the project.This was the moment that the Mito Downtown Revitalization Project was set into motion. Mayor Takahashi was present at the first meeting, and from there we continued to move forward.
There have been broad suggestions for regional development across Japan, but they have yet to yield nationwide results. Each project has been a one-off. Instead of devolving policies and dispersing national resources, projects have been concentrated in just one area. In order to build effective revitalization models, multiple projects have to be simultaneously implemented based on a bold concept. With the Mito Downtown Revitalization project, we aim to learn from outside the prefecture and focus on attracting investments. In the words of Tokugawa Mitsukuni, "if wisdom and strength are lacking, gather them from elsewhere." We need to encourage the people of Mito and to bring in people, capital, and knowledge from elsewhere.
The Mito Downtown Revitalization Project includes Yoshimichi Hoshino, President of Hoshino Resorts; Kojun Nishima, President of Sumitomo Realty & Development; Muneaki Masuda, President of Culture Convenience Club (CCC); and Hirohisa Sato, President of Balnibarbi. We are also honored to be joined by businesspeople originally from Mito like:Michio Fukuda, Chairman of Adastria, and Shokei Suda, President of Enigmo. With their help and the help of other volunteers in the area, we will continue to promote the revitalization of Mito.
It has been 37 years since I left Mito. I studied in Kyoto and Boston, established GLOBIS in Tokyo, and I devoted myself to raising my five sons. I regret not having contributed to my hometown at all. That changes with the Mito Downtown Revitalization Project. Together, let's make Mito a model for revitalization!